Log Cabin Day 2016 took place on Sunday, June 26, 2016. Below are a few photos of the annual event, which celebrates Old Mission Peninsula's heritage and is an outreach of the Old Mission Peninsula Historical Society.
Highlights included several ladies wearing historical clothing while quilting or rug-making, a wartime storyteller, a vintage hand-crank corn sheller, a lively musical group and, of course, the historic Hessler Log Cabin, which was open to the public.
Old Mission Gazette is Reader Supported.
Click Here to Keep the Gazette Going.
And by the way, check out the "Hessler Log Home Construction" merchandise on Old Mission Gazette's online store! T-shirts, tote bags, bumper stickers and more are sporting Joseph and Mary Hessler's (fictional) log home construction business logo.
Also at Log Cabin Day 2016, the "Preserve Historic Sleeping Bear" group brought their 26th Michigan Field Hospital exhibit to the event. Be sure and visit the Port Oneida Fair on August 12 and 13 in Leelanau County. Click here for more info.
The Maritime Heritage Alliance brought out a couple of boats for display, including the Mackinac Boat "Gracie L" and a beautiful Birch Bark Canoe.
A few miles away, the Dougherty House was open for viewing, as well. Good job by all who participated, including my sister-in-law Laura Johnson, who was instrumental in bringing everything together.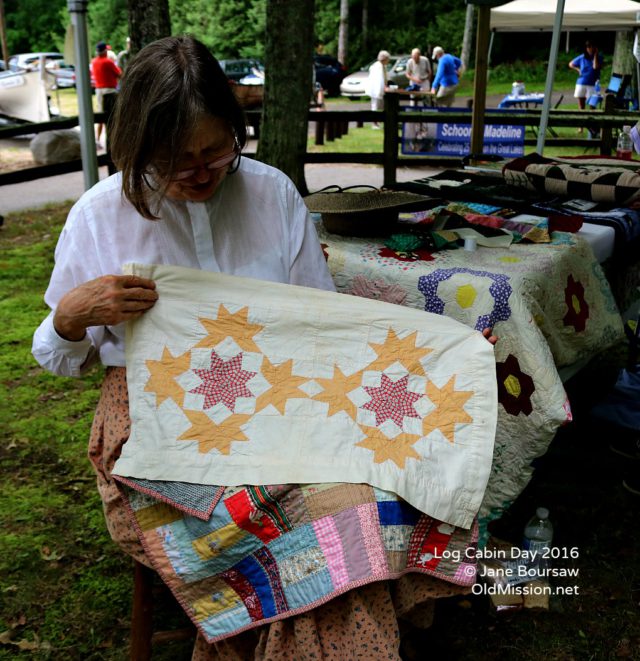 A NOTE FROM JANE: I started Old Mission Gazette in 2015 because I felt a calling to provide the Old Mission Peninsula community with local news. After decades of writing for newspapers like the New York Times and Los Angeles Times, and magazines like Family Circle and Ladies' Home Journal, I really just wanted to write about my own community where I grew up on a cherry farm and raised my own family. So of course, I started my own newspaper. Because the Gazette is mainly reader-supported, I hope you'll consider tossing a few bucks my way if I mention your event, your business, your organization or your news item, or if you simply love reading about what's happening on the Old Mission Peninsula. Check out the donation page here. Thank you so much for your support. -jb