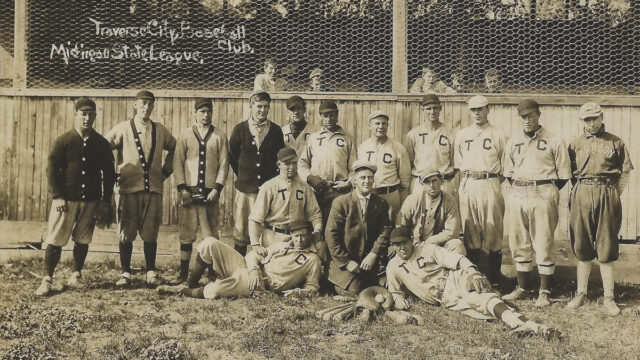 Bowers Harbor Park has been the site of many baseball teams and games over the years, dating back into the 1800s. In fact, over at our online store, OMPstore.com, we sell a line of "Peninsula Redeyes" tees, hats, etc. My husband Tim was part of that team in the 1960s and 70s.
In my OMP archives, I have a lot of photos of Old Mission Peninsula baseball teams, which will make their way to Old Mission Gazette at some point. Today, these particular photos are of a minor league team called the "Traverse City Resorters," taken one fine day in 1910 when they were practicing at Bowers Harbor Park.
Help Support Old Mission Gazette - Click Here
The photographer is unknown, but the photos are part of Don Harrison's postcard collection. Big thanks to Don for giving me permission to publish the photos here on Old Mission Gazette, and to Mark Smith for alerting me when they popped up on Facebook.
Don runs a business called "UpNorth Memories Postcards and Paper Collectibles," where he buys and sells vintage postcards and collectibles. Check out his eBay store here and Facebook pages here and here. You can also call him at (586) 201-4600 or email [email protected]. He's always looking for new – make that vintage – postcards and collectibles.
Bowers Harbor Park, Circa 1910
First, let's talk about the Bowers Harbor Park of 110 years ago. I'm guessing that all of those trees in the photos are where all the trees are now, near the road where you drive in and park. Then again, things may have looked vastly different 110 years ago.
According to Don's notes on Facebook, the concessions stand sold soda pop, Hires Root Beer, cigars, candy and more. If you look closely, you can see the "Hires" sign in the stand on the right.
And perhaps this was on the back of the postcard: "NW Traverse Old Mission Bowers Harbor MI RPPC c.1910 BATTER-UP AT THE OLD BASEBALL PARK; Concessions Stand and Picnic Grounds in the Bowers Harbor and Neahtawanta Area."
Notice all the picnic tables, too. It's a happening place now, and clearly, it was back then, too.
Inside Baseball
I did a little research on the "Traverse City Resorters" and learned that they played in the West Michigan League in 1910 and the Michigan State League from 1911 to 1914.
The West Michigan League was an early 20th century minor league that included baseball teams in the western part of Michigan. Among the league's teams were the Traverse City Resorters (which folded after the 1915 season), Cadillac Chiefs, Holland Wooden Shoes and Muskegon Speed Boys.
The Michigan State League included six American baseball leagues, operating from the 1880s into the 1900s. Five of the leagues operated for only one or two baseball seasons, and the other league operated for four seasons. Collectively, the leagues covered eleven baseball seasons from 1889 to 1941.
The first two Michigan State Leagues, 1889–1890 and 1895, pre-dated the establishment of present-day Minor League Baseball, an umbrella organization of minor leagues. The third was a "Class D" league during 1902 only, the first season for the organized minors.
In 1911, the West Michigan League expanded and became the fourth Michigan State League as a "Class D" minor league through 1914. In 1926, the Michigan–Ontario League merged with the Central League to form the fifth Michigan State League, which played only the one season. The sixth Michigan State League operated in 1940 and 1941.
Of course, now we have the Traverse City Pit Spitters, which also has an Old Mission Peninsula connection. Leslye Wuerfel, who started the team (originally named the Beach Bums) with her husband John, is the daughter of Rex and Deni Hooper, who farmed on the OMP for many years. Leslye's brother Bruce and his wife Terry own Hooper's Farm Gardens on Kroupa Road.
Read more about when John and Leslye retired from baseball a couple of years ago.
About the 1910 Traverse City Resorters
According to a site called StatsCrew, the 1910 Traverse City Resorters team was managed by Henry Collett and Pat Thacker. The team record was 50 wins and 45 losses, which placed them second in the Michigan State League.
They played at a park called "League Park," and while there is no address listed for this park, it's noted as being at the "Fairgrounds on the east end of town." When I was a kid in the 1960s and 70s, the Fairgrounds were located at what is now the Civic Center, so I'm not sure whether this is where the team played or if it was somewhere else (since this would have been 50 years prior).
Here is the 1910 team roster from StatsCrew:
Pitchers: LaRue Kirby, Earl Zook, Ormand Williams
Batters: Bunny Brief, William Tierney, Friend, Earl Dunckel, Otto Pfeiffer, Jacob Geiser, Raymond Moore, Martin Westerman, Elmer Graham, LaRue Kirby, Earl Zook, Henry Collett, Cael Gauer, Klinger, Ormond Williams, Dostert, Fred Markley
I've included the player names on the photo below, as noted by Don on Facebook. Read more about their individual stats here. Also, if you click on the photo, you can make it larger.
If this photo was indeed taken at Bowers Harbor Park, that's quite the structure they've got. I'd also love to know who the kids are in the background. Old Mission kids, perhaps?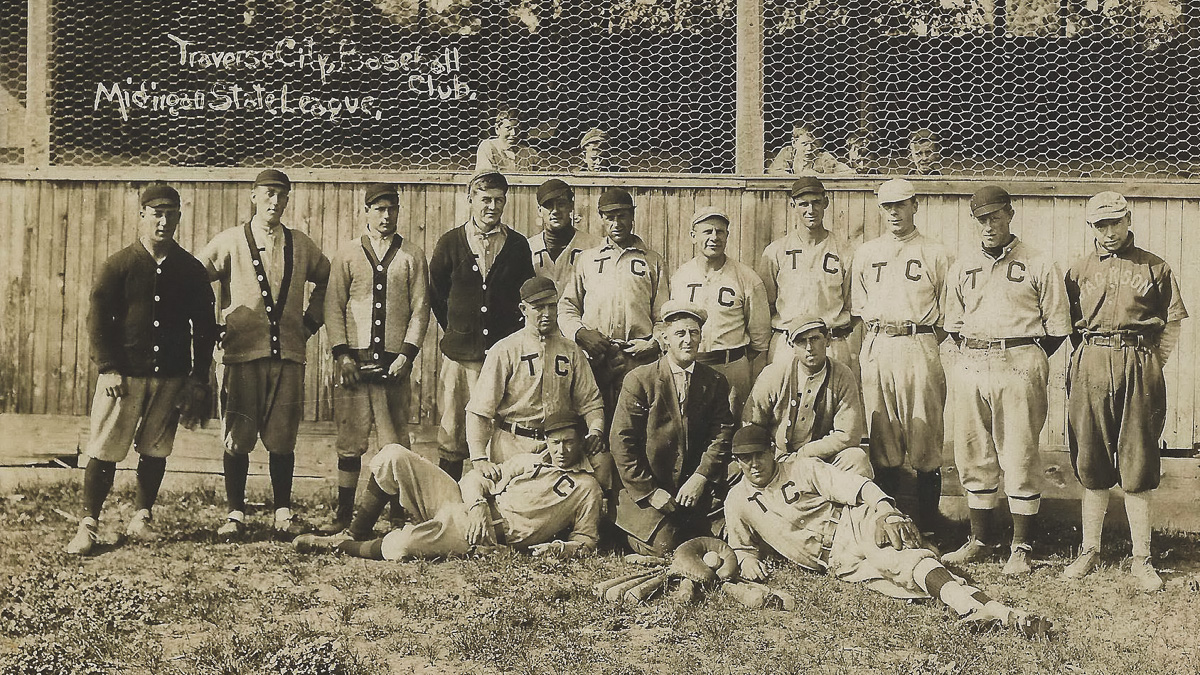 Are any of your kin in the photo? Do you have other info about the team and/or northern Michigan baseball back then? Tell us in the comments section below.
We Need Your Support!
Old Mission Gazette is a reader-supported newspaper, and we need your ongoing support to keep delivering OMP news, history, photos, events and more. Owners Tim and Jane Boursaw are devoted to the Old Mission Peninsula community, and every contribution, big or small, is valuable. Click HERE to support Old Mission Gazette. Thank you!