Mike Selleck emailed this morning to let me know that his dad, Richard Selleck, passed away today. Richard's impact on the Old Mission Peninsula community is still felt today, and whenever anyone shares memories of him, it's always with a smile. From Mike…
Rev. Richard Selleck, former pastor of Ogdensburg United Methodist Church, died on Dec. 29, 2020 of natural causes. He was 91 years old.
Old Mission Gazette is Reader Supported.
Click Here to Keep the Gazette Going.
A few may remember him as the student pastor, appointed in 1955, to the "old" white clapboard Ogdensburg United Methodist Church, which was located on the north side of "The Hogsback" on Center Road, about a half-mile north of the intersection of Smokey Hollow Road.
In 1957, under his leadership, the members chose to build a new facility farther north on Center Road, now known as Old Mission Peninsula United Methodist Church. He remained the pastor there until he moved to New York in 1959 to attend Union Theological Seminary.
Following his seminary training, his ministry included pastorates at Grand Rapids Oakdale UMC (1963), Rockford UMC (1966), Muskegon Temple (1970), District Superintendent of the Kalamazoo District (1977), Conference Council Director (1983), Lansing Christ UMC (1987) and Sand Lake/South Easley UMCs (1992). He retired in 1996.
He was recognized for his leadership abilities and his passion for social justice issues, and will be remembered for his unwavering commitment to teaching and preaching the Christian gospel.
In 1959, Richard and his wife, Marion, purchased land from Roy Hooper at the very end of Phelps Road. They built a small cottage and used it regularly for nearly 40 years, finally selling a few years after Marion's death from breast cancer in 1995.
Richard is survived by his wife, Eloise (Banta) Selleck, and his three sons, David of Grand Haven, Michigan; Micheal of Atlanta, Georgia; and Gerald of Grand Rapids, Michigan; their spouses, grandchildren and great grandchildren.
There will be a small memorial service at Temple UMC in Muskegon on January 23, 2021. Richard's ashes will be interred next to Marion's in the Ogdensburg Cemetery later this spring.
---
Below is a photo of Richard that Mike sent me, with the caption: Retired minister, Dick Selleck, 79, fathered three sons who all became ministers, Dave, Micheal, and Jerry. He is pictured inside the Lakeside United Methodist Church Thursday, June 18, 2009. Dave, 60, was recently reassigned to be the minister for the Martin and Shelbyville United Methodist churches (two churches) from the Lakeside United Methodist Church; Micheal, 58, has an administrative post with the North Georgia Conference of The United Methodist Church; and Jerry, 56, is the minister at the Holton United Methodist Church. (Cory Morse/Muskegon Chronicle)
I was born in 1960, so I (sadly) missed the Selleck years. My mom, Mary Johnson, was the church organist during Rev. Selleck's time at the church, and thankfully for me, she kept everything. Here are a few things I found in her archives.
Below is Rev. Selleck's "Yearly Report" for the church dated May 6, 1956. He writes: "This has been without a doubt the most wonderful year of our life. Everyone has been kind to us, and we feel we can never fully repay you. I believe we have made great gains this year, spiritually as well as materially. To me this gain represents the results that can be obtained when people unite their minds and efforts into a high and great cause. God has truly blessed this church with his guidance and power." He goes on to map out some goals for the church.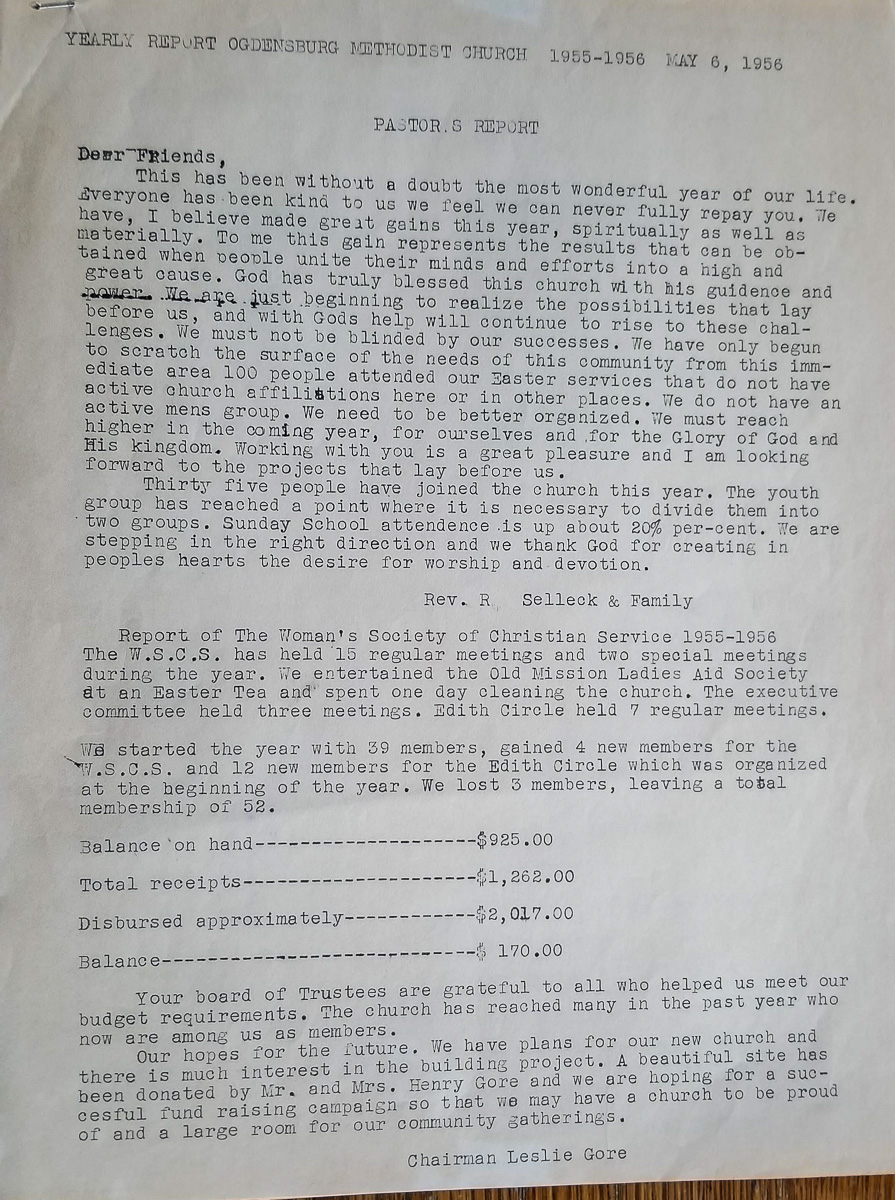 The four pages below are a professionally-printed document dated 1956 about the building of the new church where it's currently located at 16426 Center Road. I've included the contractor numbers, but the entire folder includes pledges from members to help fund the new building. The church has since been remodeled to include an elevator for those unable to take the stairs to the basement meeting room and dining area, as well as other updates. During non-Covid times, I still play my violin in this church every Sunday.
Below in his newsletter dated Dec. 4, 1957, he talks about the building of the church, including the new well, and other news. Some of the names mentioned include Don Kroupa, Mary Johnson, Dorothy Kroupa, Evelyn Kroupa, and Pansy Gore.
Below is another newsletter, dated Dec. 18, 1957, with more news about the building and a note that Rev. Selleck has finished his fall semester. Some of the names mentioned include Robert Fuller, Rex Hooper, Jim Cosgrove, Daryl Kniss and Cort Gore.
And below is a newsletter dated Nov. 2, 1958, about a year later, with more news of the new building and church. Below that is the cover of the newsletter, which was mailed to my parents (as were all of the newsletters). Some of the names mentioned include Ann Fouch, Nan Gore, Shirley Fuller and Mr. and Mrs. Jerry Mikesell.
A NOTE FROM JANE: I started Old Mission Gazette in 2015 because I felt a calling to provide the Old Mission Peninsula community with local news. After decades of writing for newspapers like the New York Times and Los Angeles Times, and magazines like Family Circle and Ladies' Home Journal, I really just wanted to write about my own community where I grew up on a cherry farm and raised my own family. So of course, I started my own newspaper. Because the Gazette is mainly reader-supported, I hope you'll consider tossing a few bucks my way if I mention your event, your business, your organization or your news item, or if you simply love reading about what's happening on the Old Mission Peninsula. Check out the donation page here. Thank you so much for your support. -jb