(This story is part of a continuing series about a collection of vintage slides from Old Mission Peninsula School that former OMPS Principal Bob Panter gave to Peninsula Community Library's Local History Room in 2022. Read how it came about here, and check out more vintage OMPS photos here. -jb)
Today's installment of "The Panter Collection," as I like to call it, features the 8th Grade graduating class of 1968. My sis-in-law Sherie Boursaw – who is IN the photo – sent me a copy, too, along with all the names written on the back in her lovely handwriting.
Old Mission Gazette is Reader Supported.
Click Here to Keep the Gazette Going.
The photo was taken on June 11, 1968, and as you can tell, it was in the gym in front of the stage with that iconic curtain in the background. None of my Johnson siblings were in this class, but as with all these vintage OMPS photos, you knew most everyone back then because it was a small farming community.
Also, many of the people in this photo were the older siblings of some of my classmates, like Mike Lakies (his brother Ronnie was in my class) and Scott Scharling (his sister Sue was in my class). And, of course, I grew up and married Tim Boursaw, Sherie's older brother, in 1993. Growing up on the Old Mission Peninsula back then, we were all connected in one way or another.
I love how everyone got so dressed up for these graduation photos, with suits and ties, white gloves, and beautiful dresses with corsages. Sherie said it was a big deal to get dressed up, and she remembers standing in line to get their picture taken. Her mom (my mother-in-law – the first Jane Boursaw!) bought her the pretty blue dress she wore for the graduation photo.
It was a tradition for the 8th grade class at Old Mission to take a field trip to Greenfield Village (somewhere around here, I have pics of my sister Carol's class doing that). Sherie recalls that while they were at Greenfield Village for their class trip, Bobby Kennedy was assassinated – on June 6, 1968. Mr. Bacon, who Sherie kept in touch with until he passed a few years ago (and still keeps in touch with his wife), was one of their chaperones.
"I remember running through the courtyard to where they were, because we weren't sure they'd heard the news," she said. "We were so in shock. It was right after Martin Luther King was assassinated (April 4, 1968), and we were really quite concerned and scared."
But like all of us who went to Old Mission Peninsula School, Sherie has great memories of attending class there, like the square dances (always the fashionista, she recalls wearing a matching peach skirt and top) and walking down the halls with the aroma of her grandma Clarissa Boursaw's home-made cinnamon rolls wafting through the air (check out Clarissa's recipe here).
Clarissa was a cook at the school, and there may have been a little "war of wills" in the kitchen about whether to leave the chicken skin in for their home-made chicken soup (Lucile Lindsey was in the "leave it in" camp) or whether to take it out (Clarissa was in the "take it out" camp). Lucile must have won that argument at some point, because Sherie said when she got her bowl of soup for lunch in the cafeteria, she took the chicken skin out and put it in her empty milk carton because "it grossed me out!" I'm with you, Sherie!
And like all of us, leaving Old Mission to attend school in Traverse City was a big culture shock. "I was sad to leave Old Mission," she said, "It was nerve-wracking because you didn't know what to expect going into town to the Traverse City school system. You come from a small school, and suddenly you're in school with a lot of people."
After graduating 8th grade at Old Mission, she went to Central Grade School for 9th grade, and then to Central High School for 10th through 12th grades. Back then, it was the only high school in town, so we all just called it "Senior High."
And let's not forget those infamous OMPS Talent Shows. Sherie remembers me with my long red hair playing the violin, but I had never heard the story of when she first heard her sister Roxanne sing in the talent show. Rox was in third grade and sang "Don Gato" (the cat song – we all learned it) on the stage in the gym.
"I had no idea she was going to sing that," said Sherie. "She belted out this song, and I just couldn't believe that was my sister. For her to do that … I just gave her so much credit for doing that."
That was just the beginning of Roxanne's beautiful musical talent. I played violin in the orchestra for all the school musicals, and because we were so close in age (she was a year ahead of me), I remember Rox singing in many of them, including "H.M.S. Pinafore," in which she played Little Buttercup. We did that show at Lars Hockstad Auditorium at Central Grade School, and I remember her drinking warm lemon juice backstage to soothe her throat before the show.
Many of Sherie's classmates are now gone, including Mike Kilmury, Kim Jamieson, Vickie Hibbard, Debbie Wysong and Scott Scharling. I remember going over to the Scharlings at Bowers Harbor to play with Sue, and I have a vague memory of Scott being there – the lanky, handsome older brother of my friend. I think the grownups may have been playing cards or something.
Below are the names Sherie wrote on the back of the photo. Also check out this photo of the cheerleading team that included Sherie, along with Vickie Hibbard, Letty Grishaw and Beth Rasmussen.
Old Mission Peninsula School – 8th Grade Graduating Class; June 11, 1968
Front Row, left to right: Bill Sholten, Letty Grishaw, Debbie Potter, Jon Glauch, Terry Arp, Mary Sue Donick, Debbie Cosgrove, Robbin McKinley, Sharon Tompkins, Sherie Boursaw, Vickie Hibbard.
Second Row, left to right: Greg Elliot, Debbie Wysong, Mike Kitchen, Mark Carroll, Trina Hoag, Merralee and Marcia Grassa, Beth Rassmussen, Scott Scharling, Mike Kilmury, Greg Wolf, Betsy Brace.
Third Row, left to right: Pat Bennett, Marcia McManus, Mary Ann Leonard, Kim Jamieson, Steve Kroupa, Rex Draper, Tim Shostack, Dan Carroll, Mike Lakies, Jeff Lardie, Terri Wilson, Denise Swanson, Kathy Patterson.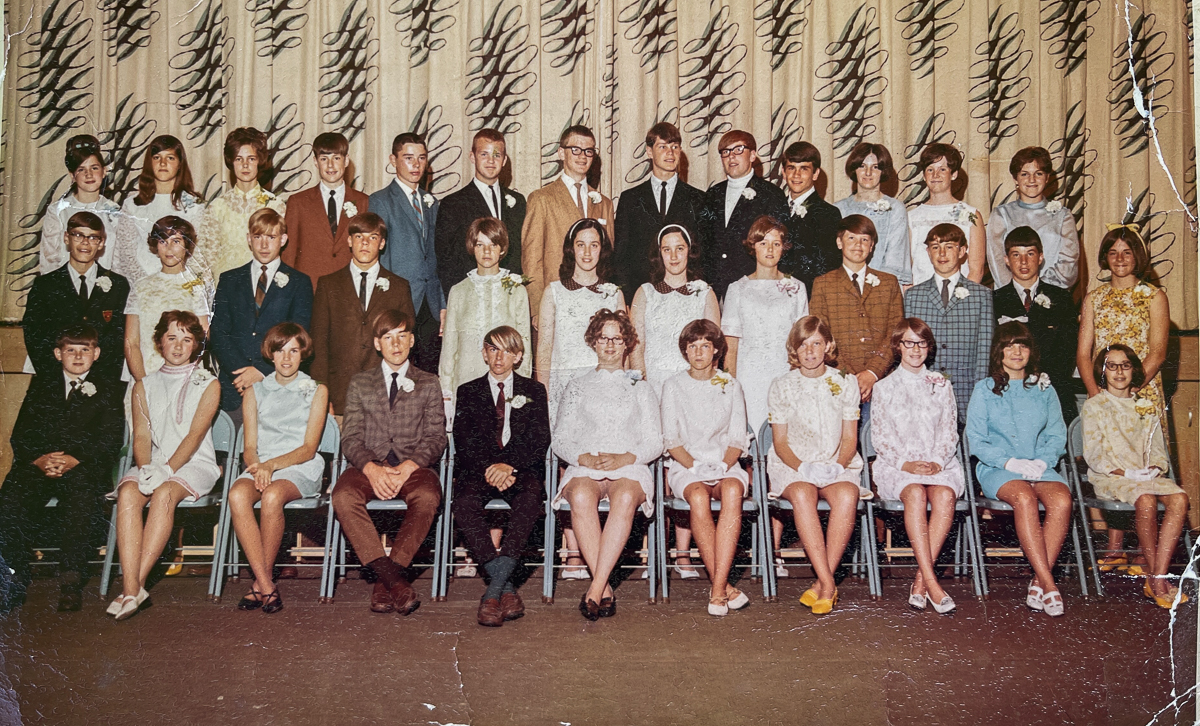 Also Read…
A NOTE FROM JANE: I started Old Mission Gazette in 2015 because I felt a calling to provide the Old Mission Peninsula community with local news. After decades of writing for newspapers like the New York Times and Los Angeles Times, and magazines like Family Circle and Ladies' Home Journal, I really just wanted to write about my own community where I grew up on a cherry farm and raised my own family. So of course, I started my own newspaper. Because the Gazette is mainly reader-supported, I hope you'll consider tossing a few bucks my way if I mention your event, your business, your organization or your news item, or if you simply love reading about what's happening on the Old Mission Peninsula. Check out the donation page here. Thank you so much for your support. -jb